BAHNCONSULTING
Hermann Schmidtendorf, Bruchsaler Str. 3, DE - 10715 Berlin
Telephone +49 157-86539357, Telecopy +49 30 94052229
e-mail: office@interlok.info
IN JANUARY 1989...
we founded the Polish rolling stock repair and trade Ltd. INTERLOK at Pila, being the only public-private joint venture between a West European partner and the Polish State Railway PKP. The focus of activities was laid on repairs and trade dedicated to steam locomotives, boilers and museum / tourism related rail equipment and technology. Growing requests from all parts of the world referring to other rail related topics led us to work within the new formula: THE INTERLOK GROUP. Nowadays, we work within an international network of partner workshops and suppliers among others from Poland, Germany, Bulgaria, Rumania, Slovakia, Italy and France.
WHAT'S UP?
11/06 - OUR CURRENT SALE OFFER: 40 miles rail, 40x Fcs, 40x Kbkks, 10x Fals, DIESEL AND STEAM LOCS, 40 x DUMPCARS...
We offer currently among others: 40 miles and more second-hand good quality RAIL S 49 ex-works Germany - Berlin/Baltic Sea; 8 switches standard gauge of S 49 rail; 40 Fcs freight waggons discharging between and aside the track, revision valid for 4 years (1st photo left top); 40 waggons for wood transport Kbkks including fresh revision and RIV registration - drawing; 1 complete historical cereal mill photo on the left; 40 dumpcars Eakkmos with 2 seperate dump moulds, RIV registration, photo left bottom.
Our offer of commercial and historical rolling-stock material is constantly growing. Some further positions: fully revised 600mm diesel locomotive 30 hp "Gls30"; historical restored coach "Bi" of the 1920ies, usable as rolling or stationary restaurant; rail pile transport platform waggons with incorporated rail for MATISA portal crane, fully revised with RIV registration; 10 Fals TALBOT waggons unloading aside the rail, possible application for transport of timber shavings; 4-axle standard gauge steam locomotive TKp Slask with or without revision - see the photos.
Furthermore: 1 turntable diameter 24 m; 1 battery driven shunting locomotive standard gauge; diesel locomotives std gauge 600-1200 hp, rail temper machine PLASSER & THEURER 08-32, one KRUPP rail construction crane from 1980, for 32 t load, including two work cars, 2 600mm gauge diesel locomotives DIEMA Ds60 and Ds90, 1 Polish 0-6-0 "Las" steam locomotive for 600mm gauge (Henschel replica), fully overhauled and supplied with an air brake pump... Please check as well our further CURRENT SALE LIST. Besides that, we are glad to give further offers and resell your rolling-stock offers!
Further photos: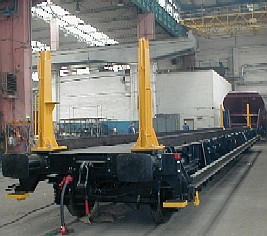 (Photos: Hermann Schmidtendorf / Interlok) Requests under telephone +49-178-3024253 or E-MAIL
TKt48-18 AT WROCLAW AND Px48-3917 AT PIASECZNO AGAIN IN SERVICE THANKS TO MOBILE INTERLOK WORK BRIGADES
11.9.2006: AFTER 27 YEARS, REGULAR PASSENGER STEAM RETURNS TO LOWER SILESIA

The tank steam locomotive TKt48-18 (Cegielski 1951/1544) returned in Poland to honours and, again, runs regular passenger trains! During five continuous days each month, the following PKP regional trains will be steam hauled by TKt48: Wroclaw Gl. (main station) off 13.50 - Jelcz Laskowice on 14.31; Wroclaw Gl. off 17.50 - Jelcz Laskowice on 18.31. The locomotive's home is the museum depot at Jaworzyna Sl., but during the next years, TKt48-18 will be located at the PKP depot (lokomotywownia) of Wroclaw Gl.

The spectaculous return of regular steam in Lower Silesia (South West of Poland) was enabled by a mobile workers' brigade of INTERLOK. The Pila based steam specialists repaired the locomotive's boiler at the depot Wroclaw Gl. and, jointly with local railway workers, turned the locomotive with a valid revision back to regular service. A group of British and American steam enthusiasts paid the repair, taking contributions of 500 pounds and more from each member. During the first years of service, the locomotive will run in green painting and without wind braces. Later, the characteristic of this locomotive class wind braces will be installed. The intention is to remember the evolution of the construction of the TKt48 class that indeed run first without the braces.

Also at Piaseczno near Warsaw, mobile INTERLOK workers' brigades did their job. They carried out a boiler revision to the meter gauge steam locomotive Px48-3917. This locomotive had been constructed by Interlok in the 1990ies out of parts of two locomotives, frame and coal tender coming from a meter gauge Px48 from Insko depot (North West of Poland) and the boiler coming from Px49-1791 (Chrzanów 1950/2031). The latter had at that time already been taken out of active service and was being used in Zdunska Wola (near Lódz, Central Poland) for heating purposes. The new Px48 that was constructed at Pila received the order number 3917, as the last PKP order number of Px48 locomotives that had been regularily built by the Chrzanów company was 3916. (Photo: Pawel Koziól/Gazeta Wyborcza)
INTERLOK AT THE GREECE FEDECRAIL ANNUAL CONFERENCE
From 19.-24.5.2006, Interlok attended the annual FEDECRAIL congress at Volos and Athens/Greece. FEDECRAIL is the European umbrella organisation of national museum and tourism railways, rail operators, museums and rolling stock collections with public access. The delegates listened to the final report on the realization of the SteamRail.Net project, dedicated to preservation activities of six European museum railways and supported by EU funds with approx. 600.000 EUR. Steam and diesel specials covered the region of Volos on standard gauge, the 600mm gauge Pilion railway and the meter gauge Tessaly railway, where a Schoema diesel locomotive and a unique Linke-Hoffmann railbus "Fliegender Hamburger" on meter gauge from 1937 were in service (group photo, in front of the railbus among the delegates with yellow cap: the Greek museum rail activist, engineer at Athens' metro and Interlok shareholder Nikolaos Sbarounis). In Athens, delegates visited the interesting urban transport system including the Metro. Trips led among others from Korinth to the historical, spectacular 750mm gauge rack railway (system Abt) between Kalavrita and Diakopto, where an open air exhibition exposed rack steam locomotives of the same class, but from different manufacturers: Cail (Paris), Krupp (Germany) and, as the only preserved steam locomotive of Greece production, a Greek copy from 1954 of SPAV Pireus works. Other trips on the meter gauge Peloponnese railway covered Olympia. At the Fedecrail conference, the Spanish museum rail association ARMF from Lleida was admitted as a member. The ARMF board member Manuel Ramos is an Interlok shareholder. Congratulations! (5 Photos: Hermann Schmidtendorf)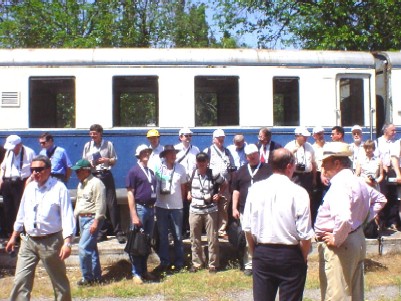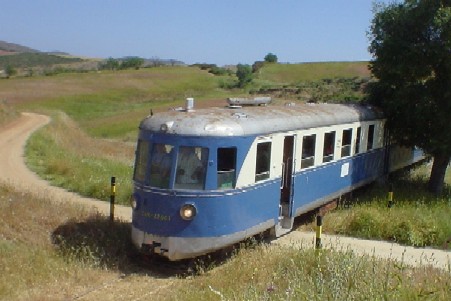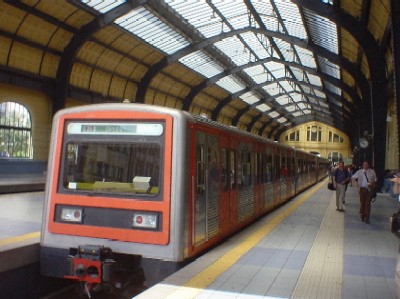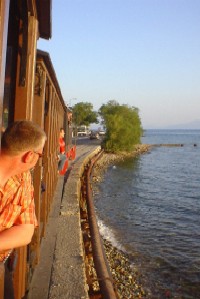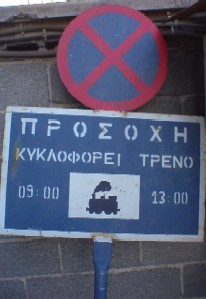 STEAM LOCOMOTIVE AFTER INTERLOK OVERHAUL BACK AT REWAL, STUDY ON THE POMERANEAN NARROW GAUGE LINE HANDED OVER
At the end of May 2006, the revised steam locomotive Px48-3916 (reconstruction of 750mm gauge loc Px48-1722, Chrzanów 1950/2022) was officially taken back into service on the meter gauge line Rewal - Gryfice after trial runs under supervision of a rail inspector and the operator, the City of Rewal. The repair at Interlok took longer than expected, due to cracks of the cylinders (see workshop repair photos below). The 15.6.2005, representatives of the German meter gauge rail museum Bruchhausen-Vilsen passed a huge scientific study on the Pomeranean meter gauge network to the Warsaw rail museum. The research study on the ancient German, nowadays Polish rail network was written in German and translated into Polish. It had been completely financed by the German government with an amount of approx. 60.000 EURO. The study had been initiated in 1992 when Interlok gathered Polish and German rail enthusiasts with PKP officials at the Szczecin office of the German General Consul. In order to maintain steam tourism during the following years when the line was transferred from Polish State's PKP to the City of Rewal, Interlok had overhauled the Px steam locomotive for a symbolic price. This saved the track from being stolen by local scrap dealers, and finally, the new operator could order the first overhaul of the locomotive on his own. The celebration at the Warsaw rail museum in 2005 was attended by high representatives of PKP and the German Ambassy and had been coordinated by Interlok. The City of Rewal also will receive a copy of the scientific study.
(Photos: Marek Furtacz 1 / Hermann Schmidtendorf 4)
INTERLOK, FEBRUARY 2006: LOCOMOTIVES, BOILERS, LOCOMOBILES
At the beginning of February 2006, Interlok finished the main revision of the meter gauge steam locomotive Px48 3916 (Chrzanów 1950/2022) and of a steam tractor - a locomobile of EM type (manufactured by the company H. Cegielski Poznan, 1921; substitute boiler registration number UDT-N-21-02331). The steam tractor is a special attraction at the leading Polish "Muzeum Narodowego Rolnictwa i Przemyslu Rolno-Spozywczego" (Museum of National Agriculture and Agrarian Food Industry) in Szreniawa near Poznan. As the museum is situated aside the standard gauge branch line Wolsztyn-Poznan, visits by steam specials coming from the steam depot of Wolsztyn will be possible. (2 photos HS-Interlok dated 24.1.2006)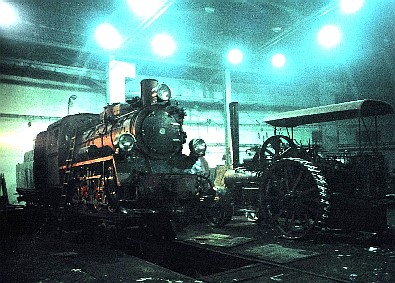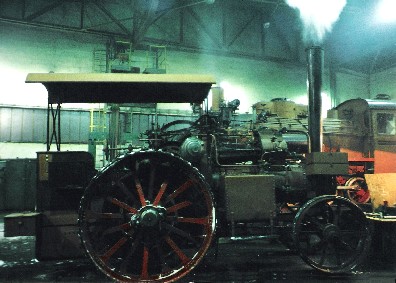 Along with the repair, the locomobile received among others the following new elements: overheater, firebox, boiler tubes, three transmission cogwheels with diameters up to 496 mm. The boiler was equipped with a new grease system, using a steam locomotive oiler, and also received an injector with the capacity of 40 l/min. The dive piston pump was completely reconstructed (the locomobile was delivered just with the empty case of the pump). Especially delicate was the procedure of fixing cracks of the twin cylinder corps. In order to avoid possible destruction of the inner cylinder chamber, the cracks were mended by using the clamp method instead of welding.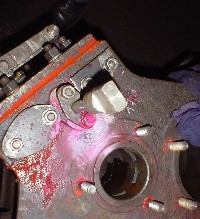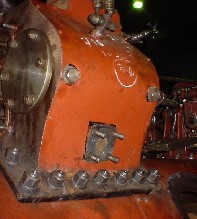 (from the left: fabrication of cogwheel, cogwheel mounted, friction test of twin cylinders after repair, cylinder block during final assembly. 4 photos: Hermann Schmidtendorf)
During 2005, Interlok gained further experience in repairing road steam vehicles by repairing the boilers of a German LANZ locomobile of LQ class fabricated in 1915, and a German steam roller of Henninger company, type CFW of class 20 t from 1928. These repairs took place in cooperation with the German INTERLOK shareholder MALOWA Bahnwerkstatt Ltd., who repaired and assemblied the Henninger steam roller to final run. Further similar items are to be repaired - if expected subsidiaries will arrive, also for the Agricultural Museum of Szreniawa.
INTERLOK PUMP TROLLEYS FOR INDUSTRIAL MUSEUM AT CHEMNITZ AND NURSERY AT SWITZERLAND
April 5th, 2006, Interlok delivered the newly built pump trolley D-K 011 to the Promotion Association of INDUSTRIEMUSEUM CHEMNITZ/Germany. According to the wishes of the customer, the standard gauge vehicle has a bench on one lateral side and two seperate seats on the other side. On Easter Holiday, the draisine was officially passed to public use - and around 10.000 museum visitors took the opportunity to run the pump trolley at a rail section in front of the museum. The Chemnitz Museum is situated in historical buildings of a former foundry, and since 2003, it exposes a unique collection dedicated to the industrial history of Saxonia and the city of Chemnitz. Further informations under: www.saechsisches-industriemuseum.de.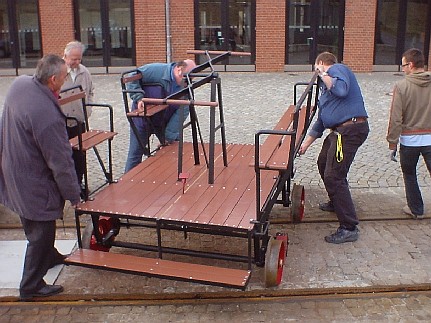 At the left: INTERLOK draisine engineer Marek Kaniewski (left) and representatives of the Chemnitz museum are unloading the pump trolley; at the right: a satisfactuary trial run. (Fotos: H.Schmidtendorf)
During a festival of their own, the nursery railway JUCHLER at Rümlang/Switzerland presented their new 600mm gauge INTERLOK pump trolley. Children and families could prove their scills at speed races with electronic speed indication. (2 photos: Tobias Juchler)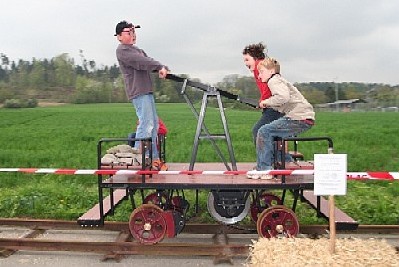 INTERLOK REVISES AUSTRIAN STEAM LOCOMOTIVE BOILER
The Austrian railway museum HEIZHAUS STRASSHOF near Vienna has ordered the main repair of the steam boiler of locomotive 52 100 (Krauss-Maffei 1943). INTERLOK workers lifted the boiler off it's frame at the museum in February, 2006, and will mount it back on the frame after repair at Pila. In 2005, another Austrian steam locomotive was turned into service with an INTERLOK revised steam boiler. No. 4 of Tyrolean Achenseebahn (1000 mm gauge) was composed out of the old frame of No.2, the rack transmission of locomotive No. 3 and the INTERLOK boiler, successfully serving throughout the season.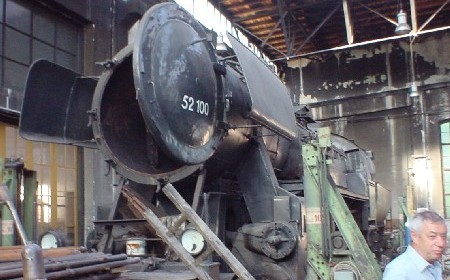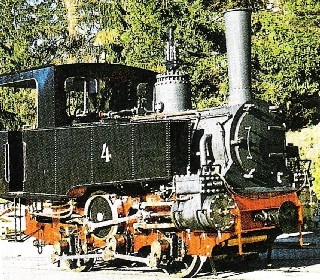 (On the left: 52-100 before dismantling at Strasshof, on the right: No.4. Photos: Hermann Schmidtendorf / Albert Ditterich)
PKP STEAM LOCOMOTIVES AT PILA WORKSHOP
On 19.10.2005, the standard gauge steam locomotives Ty2-911 (German class 52) and TKt48-191 arrived for overhaul at INTERLOK, Pila. The express train steam locomotive Ol49-59 reached Pila at the end of November. The three steam locomotives are property of PKP Cargo and serve at the steam depots of Chabówka (South Poland near Kraków) and Wolsztyn (West Poland).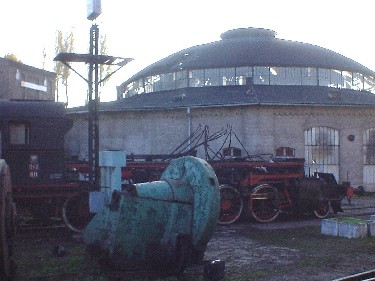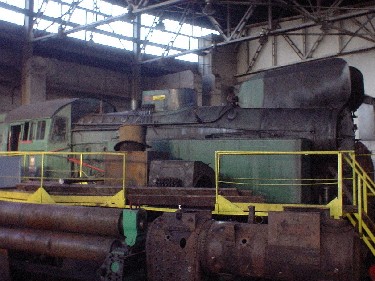 31.10.2005: Ty2-911 on INTERLOK's depot site in front of the historical roundhouse of Ex-Prussian Ostbahn; TKt48-191 at the INTERLOK repair workshop. (2 Photos: Schmidtendorf)
LUCATO TERMICA BECOMES ITALIAN REPRESENTATIVE OF INTERLOK PILA
Mid September, 2005, the board of Italian enterprise LUCATO TERMICA (Alessandria / North Italy) visited INTERLOK at Pila. Both companies agreed that LUCATO will be the Italian INTERLOK representative. It is planned to cooperate at repairs of old and fabrications of new steam boilers. Lucato is a family enterprise founded in 1954 and repairs steam locomotives up to now. At the end of the 1970ies, the company concentrated its activities on industrial heating and compressed air installations.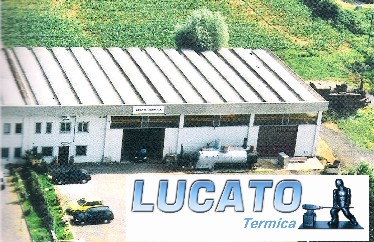 The directors of LUCATO and INTERLOK during the meeting at Pila / the LUCATO company site at Castelletto near Alessandria with company logo (2 photos: Schmidtendorf / Lucato)
ITALY's RAIL JOURNAL "TUTTO TRENO" 11/2005 REPORTS ABOUT OUR COOPERATION
INTERLOK SPECIALISTS REPAIRED LOCOMOTIVES AT DARMSTADT/GERMANY AND A PKP LOCOMOTIVE AT PILA/POLAND
Poland's access to the European Union allows Polish INTERLOK specialists to work legally at all EU customers' sites at moderate Polish fees. Also outside their own workshop, INTERLOK specialists are capable to realize a broad range of repair jobs. Since 2004, INTERLOK workers are frequent guests at the Eisenbahnmuseum Darmstadt. They performed revision work for the steam locomotive 23-042 (Henschel 28542/1954) and the diesel locomotive V62 (600 hp, MaK1956/600129). Repairs of a 1200 hp diesel and another steam locomotive are sceduled. INTERLOK workers overhauled the steam locomotive ELNA 184 (built in 1946) as well as several 2-axle freight waggons of Ks class. At the end of 2004, INTERLOK specialists worked in Austria under the supervision of Darmstadt's engineer Rudolf Langeloth. At the VOEST ALPINE factory site at Linz, they riveted 12 m high lofty multiple storey pressure vessels.
Between July and August 2005, INTERLOK helped to repair the vehicle SR53-04 of PKP Energetyka sp z o.o. (see the workshop photo on the right). This vehicle is being used for diagnosis of electric traction and for inspections.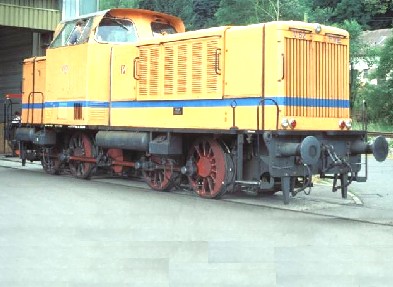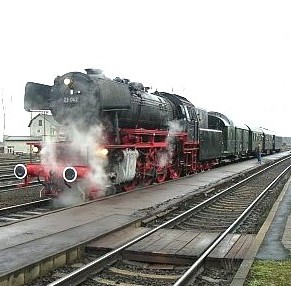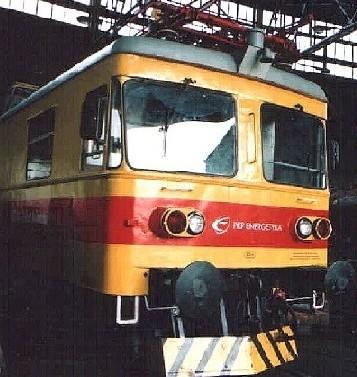 (2 photos on the left: A.Bückle / Eisenbahnmuseum Darmstadt-Kranichstein, photo on the right: Marek Furtacz)
YOU LOVE STEAM? ...COME WITH US
INTERLOK Ltd. at Pila sells 2000 new company shares
INTERLOK - the leading steam and railway centre in Poland - is planning to enlarge the range of it's activities,
* rent or purchase of fabrication and storage facilities at PILA STATION, including the locomotive shed and the historical locomotive roundhouse of Prussian OSTBAHN (Eastern Railway)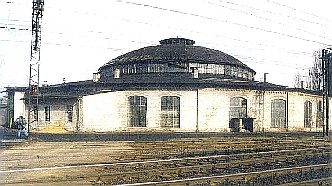 Starting from now, we are selling up to 2000 new company shares, each for the value of 100 Zloty (actual rate: about 25 EURO or 27 US Dollars). >>>...MORE INFORMATIONS
WE OFFER :
rail related objects and services. According to the needs of clients, rolling stock material may be constructed from the scratch or existing second-hand material be modernised. Besides that, some of our latest transport related offers include:
Modern City busses and long distance busses
Modern overhead line busses (trolley busses)
Tramways and tramway equipment
Our service includes among others:
Analysis of the requirements of customers
Presentation of possible vehicles and fabrication partners
Complex servicing of orders mainly in the field of translations, translations of contract drafts, technical instructions, manuals, revision protocols, correspondencies, as well as meetings with constructng engineers, suppliers and technical survey and admission institutions

MORE ABOUT INTERLOK PILA: GO TO...

WE ALSO OFFER:

PLEASE NOTE : All following information and offers are not binding for us, we may sell items in the meantime, we will not take legal responsability for any possible errors. 2002 COPYRIGHT FOR ALL INFORMATIONS AND PHOTOGRAPHS BY INTERLOK.

CONTACT : office@interlok.info