MANUFACTURING OF AN ALMOST ENTIRELY NEW O+K NARROW GAUGE STEAM LOCOMOTIVE
For a German customer, INTERLOK Ltd. at Pila had to reconstruct an Orenstein+Koppel narrow gauge steam locomotive. For long years, that locomotive had been exposed at a children's playing ground. The locomotive proved to me a mere wreck.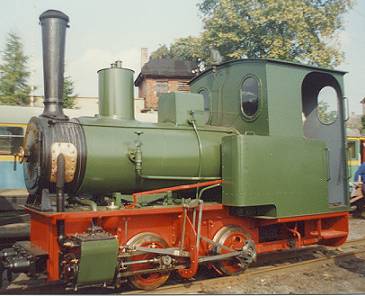 The loco had been built for 750 mm gauge. The reconstructed locomotive, according to the customer's order, was delivered for 600 mm gauge.
The following photographies expire the bad state of the original locomotive.

As the locomotive wore the water tanks inside the - fairly corroded - frame, the locomotive could not be regauged without manufacturing a new frame.
One cylinder and the missing rods were manufactured according to specially designed drawings.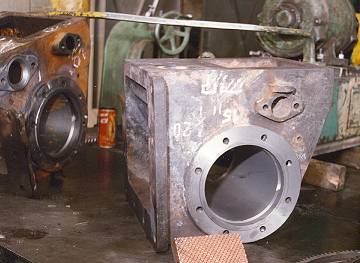 To cast a new chimney, we first manufactured a special model/mould. The locomotive also received a new driver's cabin.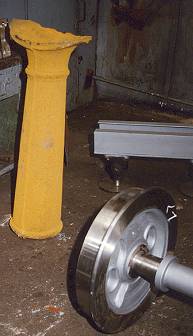 An entirely new boiler was built in welded/riveted construction.

New wheel sets with new tyres were fabricated for 600 mm gauge. Armatures and other missing parts also had to be completed by our workshop. All in all, an almost entirely newly fabricated locomotive was delivered.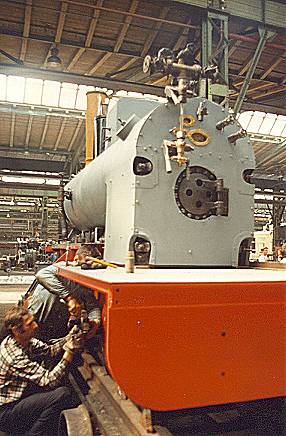 According to the customer's demands, the locomotive received a painting with special multi component varnishes, normally being used for painting bridges and oil platforms in the North, and the Baltic Sea. These varnishes guarantee absence of corrosion for at least 12 years. Their usage requires special scills and working discipline, as the once prepared varnish has to be put onto the metal surface within 40 minutes. During a test run on the picturesque 600 mm gauge railway resort of Bialosliwie (Ex German Weissenhoehe), the locomotive was presented to the satisfied customer.
Photographies: Michael HORST(11), HFSchmidtendorf(3)
CONSTRUCTION AND MANUFACTURING OF NEW STEAM BOILERS